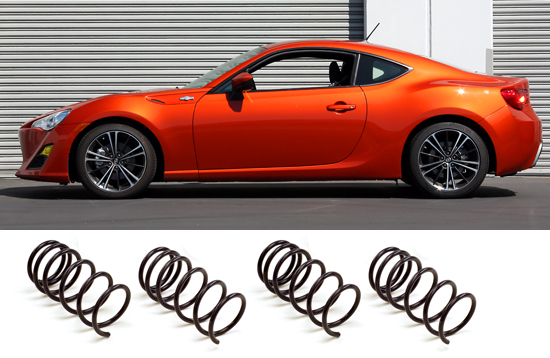 Santa Fe Springs, CA – There is no denying that the Scion FR-S and the Subaru BRZ are the hottest cars of 2012. Lightweight, rear-wheel drive, a responsive chassis, and a low cost of entry make these cars a driver's dream. Though the two cars are nearly identical, they differ in the tuning of their stock suspensions – the Scion exhibits inherent oversteer while the Subaru has pronounced understeer. In a perfect world these cars would not display either of these characteristics and would be perfectly balanced as they carve from corner to corner. Thankfully, the suspension wizards at Hotchkis Sport Suspension have just released their first in a line of products for the FR-S/BRZ aimed to bring out the true potential of these machines.
Hotchkis engineers spent hours on the track developing sport springs that were comfortable enough for the street but well tuned for track days or your favorite twisty road. These springs offer a mild 1-inch drop front and rear, giving the cars a more aggressive stance, lowering the vehicles' center of gravity, while maintaining the necessary amount of suspension travel to not upset the already well balanced nature of the FT-86 platform. Increased spring rates, up 45% in the front to 185 lbs/in and up 25% in the rear to 265 lbs/in, reduce suspension bottoming and improve the vehicles' overall balance.
Like all Hotchkis Performance suspension products, Scion FR-S and Subaru BRZ Sport Springs are manufactured in the USA, come with all necessary hardware, and are finished in durable powder coat. This bolt on upgrade can transform your FR-S/BRZ in a single afternoon and is a great first step in the quest to unlock the true potential of the FT-86 platform. Look for more FR-S and BRZ products to debut soon including adjustable front and rear sway bar kits, adjustable camber plates, and more.