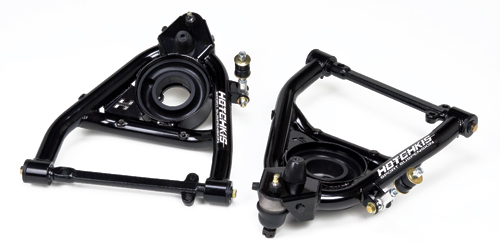 Santa Fe Springs, CA – There are few cars more iconic than Chevrolet's late 50's and early 60's Impalas. Finned and chromed Impalas, Biscaynes, Caprices and Bel Aires are a regular sight at car shows and cruise nights, but there's no reason to limit the enjoyment of full-size Chevys to low speed parking lot events. Thanks to the engineers at Hotchkis Sport Suspension, GM B-Body owners can experience the handling benefits of geometry corrected Tubular Upper and Lower Control Arms and really enjoy their cars where they belong; on the road!
Hotchkis Tubular Upper and Lower A-Arms round out the GM B-Body TVS (Total Vehicle System) offerings which already include Front and Rear Swaybars, Adjustable Rear Suspension, Steering Box Conversions and Airbag Mounting Plate upgrades.
Tubular-steel A-arms make for improved handling, driver feedback and control as well as adjusting the stance of any '58-'64 GM B-Body car including Impalas, Biscaynes, Caprices and Bel Aires.
Made of 100% TIG-welded tubular steel, Hotchkis' geometry-corrected bolt-on Upper Control Arms offer increased camber and caster adjustment over stock for ultimate driving performance and are compatible with air bag suspension systems by combining with the optional 1113L-AB kit. Hotchkis A-arms come ready to install and are complete with ball joints, 4130 steel cross-shafts, and smooth operating greasable Delrin bushings.
Lower Control Arms are also TIG-welded steel and feature repositioned ball joints which increase caster up to +7 degrees when combined with Hotchkis Upper Control Arms, resulting in enhanced stability and traction. Adjustable spring pockets offer minor ride height adjustment when using standard coil springs and cars running air suspension can be easily converted to bags using the optional 1113L-AB mounting kit. CAD designed and analyzed by FEA software for maximum strength and efficiency, Hotchkis A-Arms are built for the heavy duty requirements of the heavy B-Body, X-Frame vehicles.
Finished in gloss black powder coat, both Upper and Lower Arms are ready to install and kits come complete with ball joints, bump stops, ride height shims, polyurethane coil spring isolators and Delrin bushings. Used alone or in conjunction with the Hotchkis B-Body TVS, Hotchkis Upper and Lower A-arms provide exceptional sports-car handling performance and a stylish Pro-Touring stance.