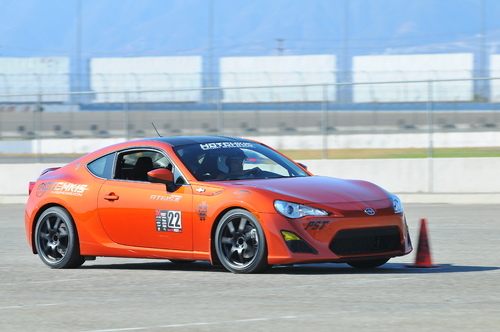 Santa Fe Springs, Calif. (October 11, 2012) – On a perfect fall day at the famed Auto Club Speedway, Hotchkis Sport Suspension shocked onlookers when its new Scion FR-S project car decimated the completion and proved that with simple bolt-on parts Toyota's new rear-wheel-drive compact can be incredibly fast. 86Fest brought FR-S and Subaru BRZ owners together with fans of the original "AE86" Toyota Corolla (the new cars' spiritual predecessor) for a car show and autocross competition. Hotchkis Sport Suspension joined in on the festivities and competed in the autocross competition with their own FR-S project vehicle which clocked the quickest time of the day.
Driven by Hotchkis Chief Engineer Aaron Ogawa, the Hotchkis FR-S repeatedly returned quicker and quicker lap times that were seconds ahead of any other FR-S or BRZ. While the average FR-S/BRZ on stock tires could trip the timing lights at around 42 seconds, the more modified cars could do it in 38 to 40 seconds. The Hotchkis FR-S, however, was consistently completing laps in the 36-second range and set a best time of 35.58 seconds.
"We couldn't be happier with the Scion's competition debut," said company president John Hotchkis. "We have a lot of experience tuning Toyota and Scion suspension systems, including running a Celica in the World Touring Car Championship a few years ago. We've applied all our knowledge to the FR-S/BRZ twins and we've found that bolt-on suspension components and good tires completely change the nature of the vehicle – from a well-mannered commuter into a razor-sharp sports car. Aaron did a fantastic job behind the wheel – it helps having a chief engineer who is also a test driver – and we're excited to keep competing with the car throughout 2013."
The car's advantage came from a combination of new Hotchkis Sport Suspension pieces for the FR-S/BRZ (set to make their official debut at the 2012 SEMA Show later this month), along with Falken Azenis RT-615K tires and sharp driving from Ogawa. The new parts include Sport Coil Springs, front and rear Sport Adjustable Sway Bars with upgraded end links, front Sport Caster/Camber Plates, and the front Sport Strut Tower Brace. The Hotchkis FR-S is also equipped with a PST carbon fiber driveshaft, Magnaflow Exhaust and a Takeda cold air intake.

The Hotchkis Sport Coil Springs and Sport Sway Bars are on sale now and are available separately or as a Stage 1 Total Vehicle System. The Sport Caster/Camber Plates, Sport Strut Tower Brace, front end links, and more will be on display at the SEMA show in Hotchkis booth #21261.