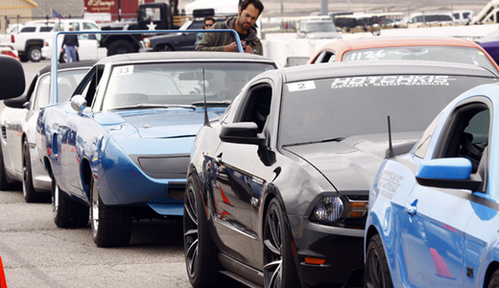 The year is motoring by! It will be summer before we know it. April was packed with automotive adventure. We produced our 3rd annual MATS Autocross at Las Vegas Motor Speedway. This exciting rain or shine driving event was a resounding success with the best of Chevy, Mopar, and Ford battling it out for class honors. Then I was off to North Carolina to conduct Hotchkis product training at one of our distributors and then make some local customer visits. It's always awesome to visit Ganassi Racing and other cool shops in the Charlotte area.
One stop was at Sneeds Speed Shop near Winston, Salem to meet with Chris Sneed. He's a great guy with a nice business preparing street, track day, and full race cars. You have to like a man with a Noble in the showroom! Thanks to Chris I have a jar of Junior Johnson Moonshine. Wicked stuff! We'll have to save that for a special occasion.
May starts my campaign for re-election to the SEMA Board of Directors. We have accomplished much during my two year term and have even more work to do. SEMA is constantly focusing on member benefits such as providing exhibitor opportunities and cost control at the SEMA show, the introduction of the SEMA Data Coop, strengthening the SEMA councils, and more. Please check out the John Hotchkis for SEMA Board Facebook (LINK – http://www.facebook.com/Hotchkis4Sema) page for details. I will keep you updated on SEMA issues and happenings.
At all the recent events, we've been excited to be working with Falken Tire in the Pro-Touring Muscle Car & Truck world. Our experiences show that Falken offers great, durable tires which provide excellent grip! Read all our MATS event coverage to see shots of the Hotchkis cars testing the Falkens in the rain!
See you on the road,
John Hotchkis