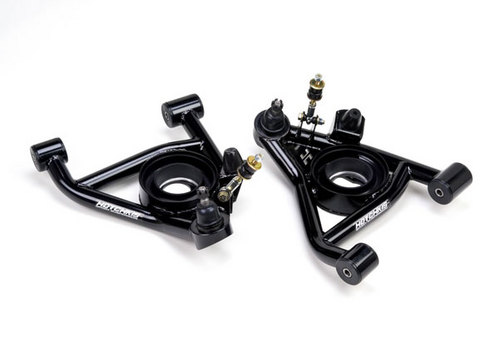 Santa Fe Springs, CA – General Motors' G-Body cars are growing in popularity as an affordable, stylish alternative for the muscle car fan. Late 70's and 80's Buicks, Chevys, Pontiacs and Oldsmobiles can be great track and project cars, especially now that Hotchkis Sport Suspension has expanded its G-Body options to include Tubular Upper and Lower Control Arms.
Hotchkis Tubular Upper and Lower A-Arms round out the G-Body TVS (Total Vehicle System) offerings which already include Lowering Springs, Swaybars, and Adjustable Rear Suspension upgrades.
Tubular-steel A-arms make for improved handling, driver feedback and control as well as adjusting the stance of any '78-'88 GM G-Body car including Grand Nationals, El Caminos, Cutlass, Lemans and even the GMC Caballero.
Made of 100% TIG-welded tubular steel, Hotchkis' geometry-corrected bolt-on Upper Control Arms offer increased camber and caster adjustment over stock for ultimate driving performance. Hotchkis A-arms come ready to install and are complete with ball joints, offset cross-shafts, and smooth operating polyurethane bushings.
Lower Control Arms have repositioned ball joints which increase caster, improve the camber curve and result in enhanced stability and traction. Adjustable shims offer ride height adjustment, regardless of engine and transmission combinations. Smooth operating Delrin bushings allow the arms to move easily throughout the travel arc.
Finished in gloss black powder coat, both Upper and Lower Arms are ready to install and kits come complete with ball joints, bump stops, ride height shims, polyurethane coil spring locators and Delrin bushings. Used alone or in conjunction with the Hotchkis G-Body TVS, Hotchkis Upper and Lower A-arms provide exceptional sports-car handling performance and a stylish Pro-Touring stance.