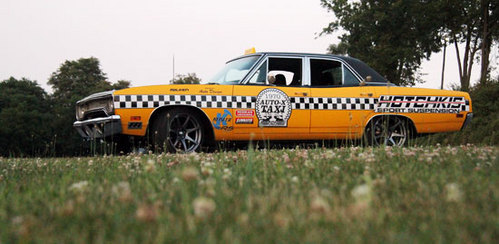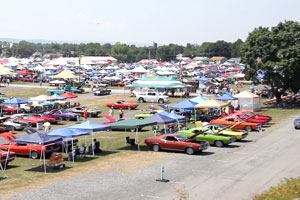 What a weekend! What a show! The 2012 Carlisle Chrysler Nationals show was extremely well organized by the fantastic Carlisle staff. Over 2,300 beautiful MOPARs of all vintages were on display Friday, Saturday, and Sunday with over 25,000 spectators visiting the picturesque Carlisle show grounds. The cars and trucks were grouped by year and extent of modification, which made the viewing experience even better. Beautiful 'Cudas, Chargers, Challengers, and Dusters were everywhere – the amount of A, B, and, E body MOPARs were incredible. But equally amazing was the fact over 320 SRT4s were on display, most of which were in surprisingly good shape. The trucks ranged from vintage Power Wagons to the super quick SRT10s. There were also plenty of lifted diesel pick-up trucks being displayed on "truck hill".
Our EMax '70 Challenger, driven by Mary Pozzi, and Kevin Wesley's Auto-X Taxi '70 Satellite were the talk of the show. More than 600 MOPAR enthusiasts received complimentary high speed, thrilling demo track rides in these smile machines and couldn't believe a muscle car could handle so well. Our message throughout the weekend was, new sports car handling from a classic muscle car with Hotchkis bolt-on sport suspension. There is nothing like experiencing firsthand the brutal acceleration, cornering grip, and threshold braking of these classic Hotchkis equipped MOPAR muscle cars.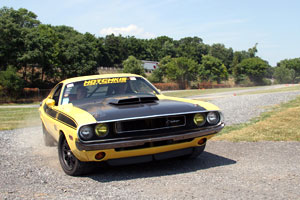 The swap meet area seemed endless with every MOPAR part imaginable for sale. Body shells, engines, interior pieces, and MOPAR related furniture and accessories were just a few of the many treasures on display. More rear ends and drivetrain parts were available at each vendor which was fortunate for us because we lost the differential in EMax during practice autocross runs on Thursday. Friday morning Dan Weishaar and John Hotchkis went used rear end hunting with fast results. Dan yanked out the trashed unit and installed the swap meet special so EMax was back on track giving rides just after lunch on Friday. The mechanical gods were on our side because EMax was punished for three days (hundreds of laps) of Autocross rides without another issue.
Among the numerous manufactures on the midway was the official MOPAR group, who had a large display showing the latest cars, engines, and cool MOPAR parts. They even offered test drives in the latest cars and trucks from the Chrysler group. The CEO of the SRT Brand, Ralph Giles, also paid a visit on Saturday.
Team Hotchkis was given a special treat on Friday with the visit to Carlisle Show partner Lance Miller's onsite car collection. Special racing Corvettes of all vintages were on display in the wonderfully air conditioned garages (which was much appreciated in the early-July east coast heat wave).
 Saturday night saw the Hotchkis team attend the exclusive MOPAR Hall of Fame celebration hosted by Rob Wolf and MOPAR Collectors Guide. The ballroom was packed with MOPAR luminaries and emceed by legendary Sox and Martin drag racer Herb "Mr. Four Speed" McCandless. Ronnie Sox was the first inductee and an emotional Diane Sox accepted in Ronnie's honor. Many other MOPAR legends were honored and the night ended with the entire Ramchargers team being honored. Who better to tell the amazing Ramchargers story than Dave Rockwell, author of "We Were the Ramchargers: Inside Drag Racing's Legendary Team."
The weather was hot, the cars super cool and this was an incredible MOPAR show. If you are a die-hard MOPAR fan this event is definitely not to be missed. We had a blast seeing the cars and meeting so many extraordinary people. We are certain they had the ride of their life!