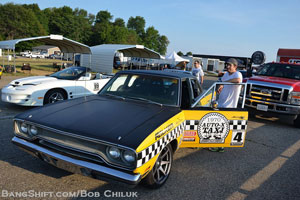 Representing Hotchkis Sport Suspension at this event was Kevin Wesley in the 1970 Plymouth Satellite 4-Door Autocross Taxi.
The event kicked off on Friday with a 40-mile cruise through the rolling countryside around Lake Michigan starting at the Motor State Distributing headquarters and ending at Warren Dunes State Park where a beach party cookout awaited. Saturday brought participants a full day of time trials on Gingerman Raceway with the event culminating with the autocross competition on Sunday.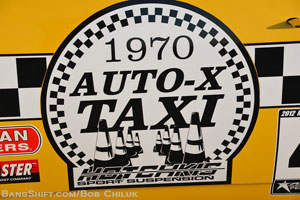 Despite some mechanical issues (this was the Taxi's first appearance on a road course), the 4,000+ lb. Autocross Taxi held its own throughout the event. Coming away from the road course Kevin was in contention for a top-5 finish in the Vintage Class if he could keep up the same kind of times in the autocross. Unfortunately the Sure Grip differential ended up giving up the ghost after the second road course session and the Taxi was effectively only putting power to one tire. Despite this, Kevin put up a valiant effort with his ailing car, staying within 3 seconds of the fastest time at Sunday's autocross pedaling, sliding, and smoking tires on a surface he could only describe as "an ice rink." But Kevin is confident that after he works the last few hiccoughs out of a car that was built in less than 3 months that it will be a force to be reckoned with on the road course or in an autocross.
When we asked Kevin what people thought about his "Taxi," he said, "It's a love/hate relationship with this car. Either people thinks it's a cool idea or they hate it because they just got smoked by a 4,000+ lb, ugly, 4-door Mopar with torsion bars, leaf springs, and stock brakes. I think it's great." We can't wait for Kevin to get his car completely sorted out so we can really see what this monster Mopar can do.
Photo Credit: BangShift

Photo Credit: Lane Automotive