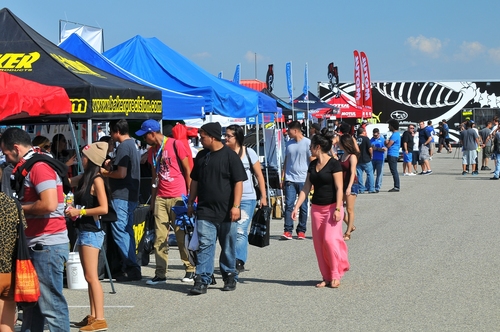 The 86Fest car show and racing event was put together to celebrate the original AE86 Corolla and the arrival of the new "86," the Scion FR-S and the Subaru BRZ. Developed as a joint venture between Subaru and Toyota, the FR-S and BRZ have quickly become the hottest performance cars of the year and have brought with them a renewed energy to the compact performance market. The event was held at the Auto Club Speedway in Fontana, California on October 7th and featured displays from performance parts manufacturers, lifestyle companies, and pro racing teams, gourmet food trucks, giveaways, an autocross competition, and even an HPDE track day. Hotchkis Sport Suspension was there with our Scion FR-S R&D vehicle participating in the autocross and absorbing the "86" lifestyle.
Though the FR-S and BRZ have only been on the market since June, there were easily over 100 examples on hand participating in the day's festivities. From showroom fresh to all-out race car, rows upon rows of the spiritual successor to the classic AE86 filled the parking lot and attempted to stay between the cones on the autocross course.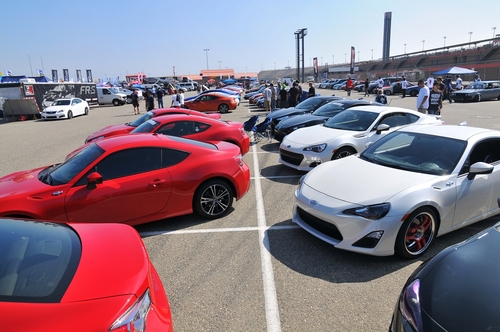 We brought out our own FR-S to do some final testing on many of our upcoming products for the new 86 platform and to show everyone what is possible with simple bolt-on suspension components and a set of Falken Tires. Throughout the day we were constantly running quicker than any other FR-S and BRZ by a second or two. But by then end of the day we had dialed the car in more and squeezed another few seconds out of the course solidifying our position as the quickest FR-S/BRZ of the day.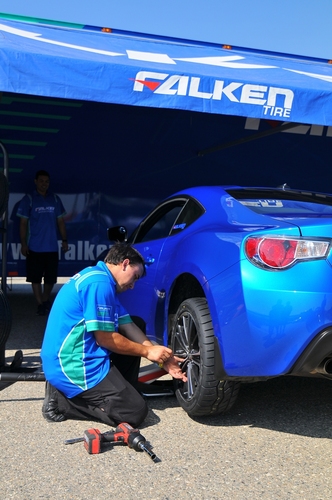 Falken Tires was there as well supporting the autocrossing in a very unique way. They had sets of factory FR-S wheels shod in their super-sticky Azenis RT-615K tires and available for any FR-S/BRZ owner that wanted to see how much difference could be made just with some sticky rubber.
We had a great time at 86Fest autocrossing and talking with other FR-S and BRZ fanatics. The excitement this group of enthusiasts had for their vehicles was truly amazing and something rarely seen nowadays and we are thrilled to be developing a complete suspension solution for such a devoted group of gearheads. Our Sport Coil Springs and Adjustable Front and Rear Sway Bars are available (both separately and as a Stage 1 Total Vehicle System) right now and we have even more parts that will be debuting at the 2012 SEMA show in just a few short weeks. Check out our website for even more information on these exciting new products.