"E-MAX" CHALLENGER TAKES PODIUM IN AUTO-X DEBUT
Hotchkis Test Car Captures 2nd Place Finish at Goodguys Pleasanton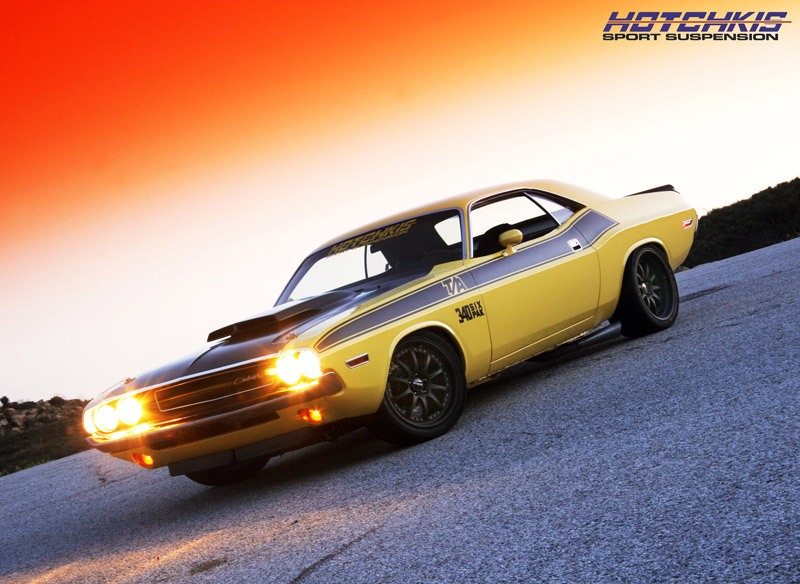 image to download wallpaper. Racing image gallery below.
KEY NEWS
1970 Challenger R/T makes Goodguys auto cross debut, places 2nd in Vendor Class
Features a Hotchkis Total Vehicle Suspension System: A-Arms, Sway Bars & more
E-Max was the only Chrysler muscle car competing in its class
QUOTE
"We've been burning the midnight oil on this car and I'm incredibly proud of its first on-track performance," says company founder John Hotchkis. "E-Max was the only classic Mopar competing in the Good Guys Auto Cross series, which is a fatnastic event both as a competitor and a spectator. Now that we're offering a winning bolt-on suspension solution for classic Chrysler enthusiasts that dramatically improves handling and driver control, I hope we'll start seeing many more Mopars mixing it up with the Camaros."
Santa Fe Springs, Calif. (June 5, 2009) –When it debuted at the SEMA show last November, the "E-Max" 1970 Challenger R/T was loaded with a variety of prototype suspension parts and a showroom stock 340 six-pack. Six months later suspension designs are in production and Team Hotchkis put them to the test at the 16th Annual Goodguys Summer Get-Together in Pleasanton, California with outstanding results.
Even in Auto-Cross trim, E-Max is a relatively stock vehicle compared to many of the auto-cross competitors. Modifications include a full array of Hotchkis suspension components, including geometry-corrected Tubular A-Arms, front and rear Sport Sway Bars, Subframe Connectors, Sport Springs, Adjustable Steering Rods and Adjustable Strut Rods. The bolt-on system creates a proper negative camber curve, sufficient positive camber for high speed stability and full bump and droop travel without bumpsteer. Prototype Hotchkis-Afco adjustable stocks provide high performance damping, and the steering has been rebuilt with Flaming River hardware.
To get the car ready for competition, the stock 4-speed has been swapped out in favor of a Classic 5-Speed Tremec TKO. Other chassis additions include Stoptech Brakes, Forgeline Wheels and Yokohama Tires. On the performance side, the 340 has been fitted with MSD ignition, Flowmaster Exhaust, a custom Moroso oil pan, Be Cool Radiator, Red Line synthetic oil and Water Wetter and power by Optima Batteries. Sparco Milano 2 seats have also been added for improved driver control.
Watch video of E-Max battling the clock and get information on the next Goodguys show where E-Max will compete at Hotchkis.net. To learn more about Hotchkis Sport Suspension, please visitwww.Hotchkis.net, email sales@Hotchkis.net or contact Hotchkis Performance, 12035 Burke Street Suite 13, Santa Fe Springs, CA 90670, 877-4-NOROLL, 877-466-7655.
# # #
Release in Word Format 
Good Guys Del Mar Site 
Hotchkis Performance News
Image Gallery – Click to Download High-Res
Media Contact: Dan Kahn – Kahn Media 
818/678-6535 Dan@KahnMedia.com