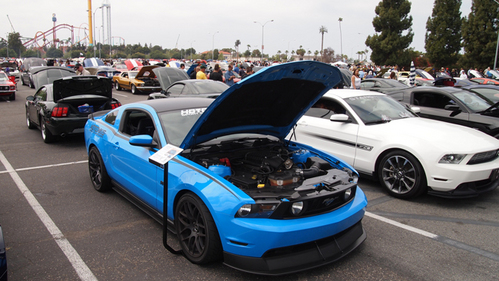 Hotchkis is a well-known brand amongst the GM and Mopar fanatics, but the company is always expanding its offerings, and the Hotchkis TVS for 2005-2012 Mustangs has been a popular addition to the Hotchkis catalog.
Salesteam member, Mike Heintz has a personal interest in the Hotchkis Ford products, as he not only sells them, but also runs them on his personal car, a Grabber Blue 2011 5.0 Mustang.
Mike joined thousands of other Ford fans at the annual "Fabulous Fords Forever" show held at Knotts Berry Farm in Buena Park, Calif. where he talked suspension and admired customer cars.
For more photos from the event head over to the Hotchkis Facebook page and keep an eye out for Hotchkis representatives at a show near you!