The sport of autocross is gaining popularity more than it ever has before and nowhere has this been more evident than at our Hotchkis Autocross presented by Nitto Tire events at the NMCA West Street Car Nationals races in Fontana, CA.  At our first NMCA West event of the year we set a record for laps in a single day and a single event, now after our June event, we're pretty sure we broke that record again.  On both Saturday and Sunday we had a sold out field of 77 cars that turned over 900 laps a day on the largest and fastest course have have designed to date.  This course was so fast, that many drivers were actually reaching third gear.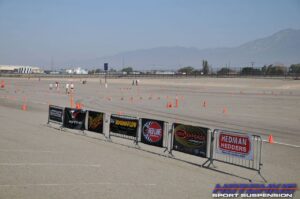 One of the best parts of this particular autocross was just the astoundingly wide variety of vehicles that came out to run with us.  Of course we had our standard complement of classic and modern muscle cars, but we also had a large number of European and Japanese import cars, a couple of wicked classic trucks, and some hot hatches joining in on the fun.  Probably nowhere was this variety of cars more impressive than in the chase for the Hotchkis Cup.  For those that aren't familiar with our Hotchkis Cup competition, it is all about speed, consistency, and clean driving.  The Cup is awarded to the driver that posted the quickest combined average lap time for the entire weekend.  That means that every cone hurts your chances bad and any DNF for spinning or getting two tires outside the course is devastating.  On Sunday, the top contenders for the Hotchkis Cup included a Lotus, a couple Corvettes, a Mustang, a few 5th Gen Camaros, a '69 Camaro, and an RX-7.  Even more impressive was that these top drivers were separated by less than two seconds, with the top five drivers posting averages that were less than 0.3 seconds apart.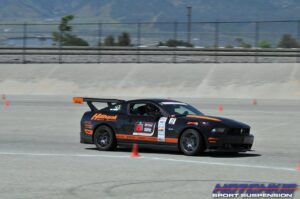 With the Chase for the Cup so close it was still anyone's game.  The drivers set out on Sunday more determined than ever to take home The Cup.  Top seeded driver Alexandra Zust pushed her little Lotus Elise as hard as she could.  It was quick and nimble but she started giving up seconds due to cone hits throughout the day.  Randy Gonzalez looked dialed in behind the wheel of his Grand Sport Corvette as he turned in clean run after clean run, only taking out two cones all day on Sunday.  The big rivalry on track came between Jordan Priestly in his 2010 Camaro and Andrew Nier in his 2012 Mustang.  These two had been close all day Saturday and the back and forth continued throughout Sunday as they both finished the day hitting one cone a piece.  When all was said and done though, the top two in class were separated by 0.15 seconds over two days, which equated to about a one cone penalty.  Jordan Priestly, after battling all day had managed to move himself up a spot in the standings, but it just wasn't enough to take down Alexandra and her mighty Lotus.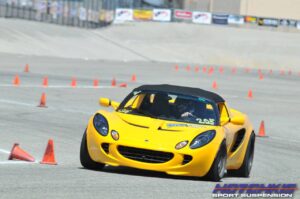 We were also treated to some special awards from our sponsors at this event.  On Saturday, Nitto Tire stopped by and handed out an award for their favorite vehicle of the event.  They gave their award to Dick Eytchison and his Hotchkis-equipped '65 Chevelle Sedan.  The guys from Nitto loved the fact that even in his 70s, Dick was out doing what he loved, giving it his all, and was never without a smile on his face.  On Sunday, Centerforce Clutches awarded H-Team member Mike Young with its Sponsor's Choice Award to recognize Mike's team spirit and willingness to pitch in to help any driver that needed mechanical help or advice on how to tune their car.  Finally, our newest event sponsor, Hedman Hedders, gave its Sponsor's Choice Award to Jane Thurmond, who spent all weekend piloting her wicked '64 Corvette and was one of the top drivers in the Classic Muscle class.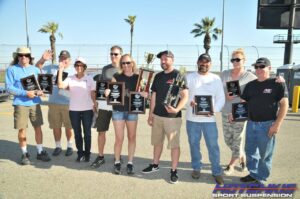 Don't forget to check out the event video and photo galleries below, and we'll see you at the next events!
Thanks to all of our sponsor for helping to make this series a success: