Mary Pozzi and the Hotchkis H-Team win big at the Blackink Media So-Cal Challenge and 
Goodguys Del Mar Nationals Autocross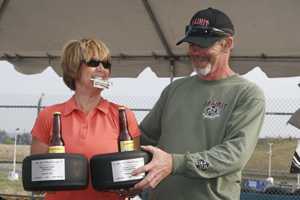 It was an atypical Southern California weekend March 30 through April 1, with cold weather and light showers injecting an extra challenge and a bit of drama into an already action-packed four days of racing. Beginning with the Blackink Media So Cal Challenge at Adams Motorsports Park in Riverside, and continuing at the Goodguys Del Mar Nationals in San Diego, the Hotchkis Sport Suspension H-Team absolutely dominated the track, taking the top slots in nearly every class of two major events, against the fastest drivers and suspension factory test cars in the nation.
Salinas, Calif. based Mary Pozzi, H-Team's charter member, shoed her LS2 powered, Hotchkis 3-Link equipped 2nd Gen Camaro to an incredible win at Adams, taking home prize money and a tire barrier battle wound on the side of her car to boot. Then at the hotly contested Goodguys autocross, Mary took an early lead, but was bested by Hotchkis chief engineer Aaron Ogawa in the Hotchkis E-Max Challenger's second run Friday afternoon putting her in the unfamiliar position of chasing the leader going into Saturday's autocross sessions.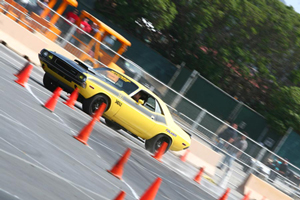 Despite the presence of some of the fastest factory test cars in the nation from Detroit Speed, Ride Tech and Maier Racing, Aaron had the fastest run of the weekend for most of Saturday. At 3:00 p.m., with both Aaron and Mary in leading the pack overall and in the Street Machine class with 31-second times, Goodguys held a shootout between the two H-Team members. In the end, Mary dug deep and bested Aaron with a 31.105 second run, beating his 31.113 run by .0008 seconds! Both drivers performed flawlessly all weekend, keeping the crowd on their feet and proving an incredible show. Mary set the fastest lap of the show and won Street Machine, qualifying her for the Pro Class for the remainder of the season. Aaron placed second overall and in street machine, an incredible feat in the leaf sprung, TVS equipped E-Max '70 Challenger. Both cars run the latest in tire technology – the Falken Azenis 615K.
In the truck world, it came down to a battle between C10 supertrucks. Mike Hickman pushed his GM Performance Parts E-Rod powered, TVS equipped '68 C10 to a first place truck class finish at the DRIVE! So Cal Shootout, but an off-track excursion meant he was running spare wheels in Del Mar, where he placed 2nd in the truck class. Rob Phillips, another charter H-Team member and the owner of PCH Rods, wheeled his bad-in-black, big block powered, TVS equipped '69 C10 to a series of incredible, muscle car crushing low 33 second times all weekend in Del Mar. Rob won Truck Class, and proved once and for all that trucks can be just as fast – if not faster – than muscle cars when setup correctly and driven with skill. Congratulations to Mike and Rob for their incredible driving.
Other H-Team highlights included Capt. Tommy Wisdom (USMC) in his Dodge Dart, "Sally," which was recently rebuilt by DTM Racing with a Hotchkis TVS, NewGen "Lite" wheels and Falken Azenis 615K rubber. In its Goodguys autocross debut, the car did exceptionally well. Greg Hohman brought his beautiful blue '71 Chevelle SS out to play on Saturday and made some passes as well. Good friend and H-Team Charter Member Dick Etchison drove all the way down from the four corners area of Colorado in his "crew cab" Chevelle, and got his times down into the low 33s. This satin blue A-Body is beautiful and really different, from its functional ram air intake to its hand-fabricated, color-matched roll bar. Dick also runs the Falken 615K. Brandy and Mike Morrow from the Spectre Performance team brought out the company's stunning wide-body Carbon Camaro, featuring LS1 power, massive Forgeline wheels tucked under IMSA style fender flares and a bevy of Hotchkis suspension components. Brandy was very competitive all weekend behind the wheel.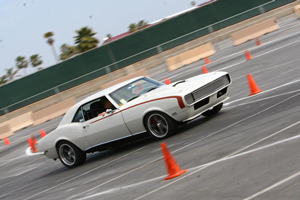 Del Mar also saw two new H-Team members on the field, both in stunning first gen Camaros with very different powerplants. Rodney Prouty's '68 Camaro coupe is completely home built – from the white paintjob with orange bumblebee stripe to the installation of a carbureted modern LS6 backed with a Muncie four-speed and Detroit locker rear end, Rodney fabricated and installed everything himself. It's an impressive machine and looks wicked on the autocross, and Rodney claims the single biggest improvement he's made to the car was the addition of Hotchkis Handle Bars under the hood.
Robert Hall from Aliso Viejo also brought out a beautiful '68 Camaro, in this case a black convertible that emits a truly spine-tingling roar out the tailpipes. Built by H-Team member Rob Phillips in his PCH Rods shop, Robert's Camaro ragtop features a complete Hotchkis TVS and is powered by a supercharged LSA from a Cadillac CTS-V, essentially a Caddy version of a ZR1 engine. He had the motor tuned up even more by the Caddy power gurus at D3 performance, and it now makes roughly 700 horsepower, funneling power to a T56 Magnum and a Currie 9-inch Tru Trac. Robert had a hard time harnessing the car's incredible power at first, but by the end of the weekend he was driving smooth and making very fast passes, while delighting the crowd with his car's amazing power delivery.
Overall this was a huge success for the H-Team. Everyone who showed up had a great time; Aaron earned the nickname "Mr. Consistency" with a series of blistering passes that not only lead the field for a time, but were bracket-racer consistent. Mary dug deep and pulled off incredible victories at both events, and the H-Team's C-10 contingent did an amazing job proving that trucks flat-out haul the mail when their owners are as fast and as passionate as Rob and Mike. Special thanks to the entire H-Team for their willingness to give rides and have a great time. We'd also like to thank Blacktop Media for putting on the DRIVE! Event, the Goodguys crew (Trent, Ed and Chad) for doing a great job as usual putting on an amazing autocross, and to Falken Tire for their support and for developing a 200-treadwear tire that can be driven to the track, beat all the other brands around the cones, and then be driven home again. See you at the next race in Vegas, April 13th!