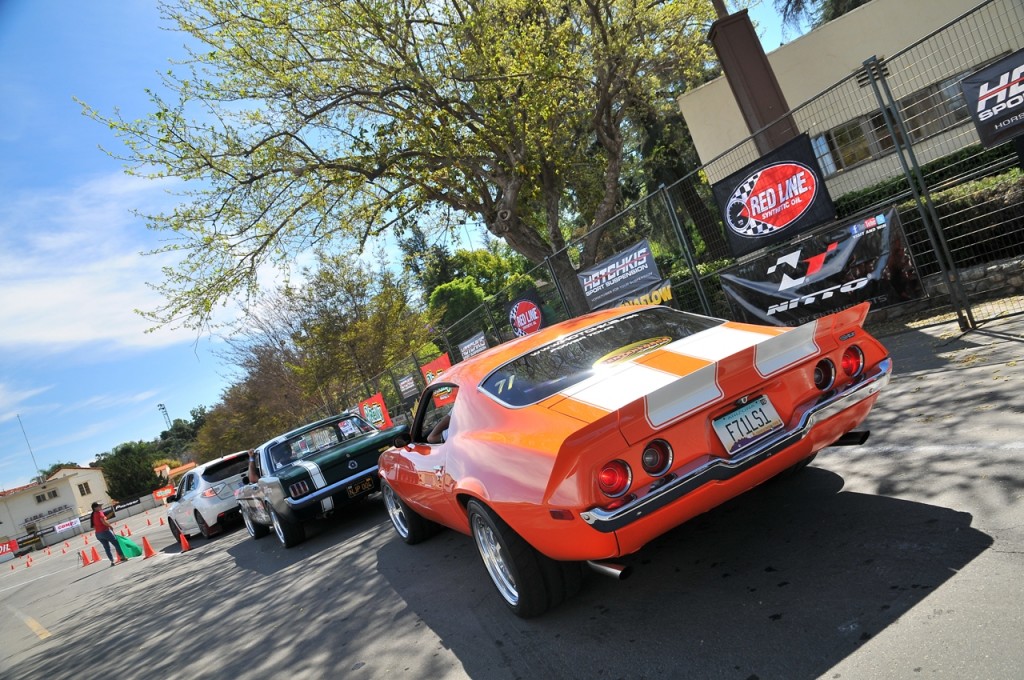 The days of the old-time car show where vehicles remained static for an entire weekend are over.  Today's car shows are a dynamic event featuring interactive displays and activities that engage both the participant and the spectator alike, which is exactly what you get when you incorporate an autocross into a show.  Autocross has seen a massive surge in popularity among American muscle car owners over the last decade as these former barons of the drag strip have found new life as corner carving moguls.  Thanks to modern suspension components like those found in our Total Vehicle System (TVS) kits, these vehicles have become so common at autocross events that even the SCCA has created a class for them.  We have always been very active in the promotion of the sport, competing in autocross events across the country with our own cars, and assembling a group of autocross ambassadors called the H-Team, but now we get to give back by putting on 10 unique and exciting autocross events around the country.
In 2015, we will bring our brand of exciting, challenging, and entertaining autocross to the four events of the Detroit Muscle TV Summer Series.  These events include Street Machine and Muscle Car Nationals in Pomona, California, the DuQuion Street Machine Nationals in DuQuion, Illinois, the Street Machine Summer Nationals in Minneapolis, Minnesota, and the Fall Street Machine Nationals in Springfield, Illinois.  In addition to these four shows, we have also signed on to put on autocrosses at six more events nationwide including all four events of the NMCA West drag racing series in Fontana, California, the Chevrolet Performance Nationals in Atlanta, Georgia, the Chrysler Nationals in Carlisle, Pennsylvania.
At each of these events, participants can expect a fun, yet technical course that is designed to test the limits of their street machines and their driving skills.  In addition to class trophies for quickest time and sponsor awards, Hotchkis will be presenting the driver with the quickest average time of the event with the special "Hotchkis Cup" award – rewarding clean, consistent runs and superior car control.  There will also be a special Hotchkis Cup Championship points race taking place at the NMCA West events in Fontana, where the quickest and most consistent driver of the season will be crowned the ultimate champion.  The Hotchkis autocross event will also be one of the three integral elements to the Detroit Muscle TV Street Machine of the Year competition that also includes a dyno challenge and vehicle design judging.
We are also excited to announce that several of the top automotive performance companies have joined the series as sponsors for this year's autocross season. Nitto Tire, a leading manufacturer of leading manufacturer of off-road and street performance tires, has signed on as the presenting sponsor. Also joining the series as official product sponsors are MagnaFlow Performance Exhaust, Centerforce Clutches, and Meguiar's.  Red Line Synthetic Oil has also joined the series as an Affiliate Sponsor.
Hotchkis Autocross events are open to any vehicle that passes a simple safety inspection that checks for leaking fluids or loose parts that can become a hazard on the track.  The only piece of safety equipment required to participate is a helmet and a limited number of loaners will be available at each event for drivers that don't have their own.
Hotchkis Autocross Event Schedule:
Street Machine and Muscle Car Nationals, Pomona, CA, March 14-15
NMCA West, Fontana, CA, March 28-29
Chevrolet Performance Nationals, Atlanta, GA, May 29-31
NMCA West, Fontana, CA, June 6-7
Du Quoin Street Machine Nationals, Du Quoin, IL, June 26-28
Chrysler Nationals, Carlisle, PA, July 10th-12th
Street Machine Summer Nationals, Minneapolis, MN, July 17-19
NMCA West, Fontana, CA, September 19-20
Fall Street Machine Nationals Springfield, MO, September 26-27
NMCA West, Fontana, CA, October 17-18
Our Sponsors: