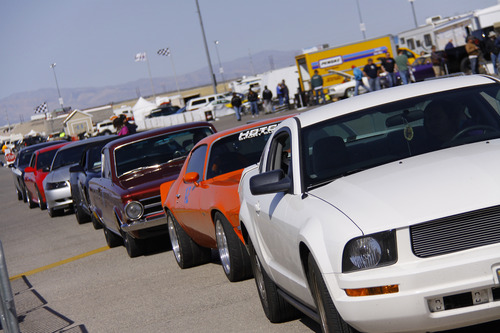 Hotchkis Sport Suspension returned for the fourth year in a row to Las Vegas to host the Mopars at the Strip, or MATS, Autocross. This year's event was again open to all makes and models and was run with the help of the Las Vegas chapter of the SCCA. Featuring a tight, challenging autocross course that favored a well-balanced suspension over power, the Hotchkis autocross pushed drivers and their cars to the limit. Combined with three days of sunny and mild weather, the stage was set for three days of non-stop cone-dodging action.
The Hotchkis H-Team was out in force wowing crowds of onlookers at the handling capabilities of both classic and modern muscle cars. Robert Pierik brought out the recently overhauled F-71 Camaro for its second autocross since receiving the new Hotchkis Tuned 1.5 SPS Shocks [link: /shock-4-packs.html]. "On the track I never had to think about them," said Robert when asked what he thought of the new shocks. "They performed flawlessly. No fade whatsoever and very predictable – no surprises at all." Dick Eytchison brought out his '65 Chevelle four-door showing that autocrossing isn't just for two-door sports cars while Shannon Hudson used his supercharged '69 Plymouth Valiant to show why he nicknamed it "Violent." Representing modern muscle for the H-Team were Rob and Trish Byrd. Their coupe and convertible fifth-gen Camaros hardly see a weekend go by when they aren't carving corners on an autocross or road course somewhere.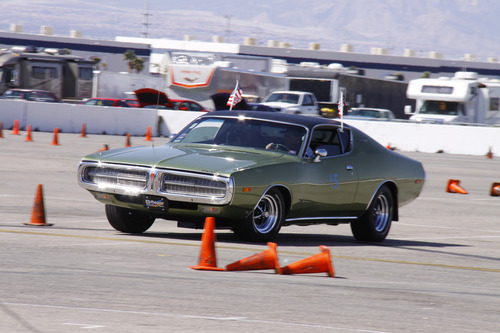 Thanks to the Autocross' very affordable entry fee, there was a great variety of vehicles eager to prove their mettle on the sea of cones. From first timers to seasoned veterans, sport compacts to SUVs, everyone had a great time and made constant improvements to their times throughtout the weekend.
For those that weren't ready to take their own cars out on the track, Hotchkis hot-shoe Dan Weishaar was behind the wheel of the Hotchkis E-Max '70 Challenger T/A giving autocross demonstrations. Pushing the E-Body's Falken tires to the limit, Dan gave the seemingly endless line of willing riders an adrenaline-pumping ride that may have only been equaled by seat time in one of the many fighter jets that streaked over the track from nearby Nellis Air Force Base. These ride-alongs really showed that with a well-engineered bolt-on suspensions system, these classic muscle cars could keep up with, if not out pace, their modern equivalents on the track.

There were some truly unique and rare cars having fun at the autocross this year too. These included a beautifully restored Lemon Twist yellow Plymouth Superbird, a Jenson Interceptor (which is actually powered by either a Chrysler 383 or 440), and a Dodge Shadow/Shelby CSX K-Car from the 1980s. But perhaps the most unusual "vehicle" to find its way onto the autocross course was a motorized bar stool. After a few false starts, the mad man at the controls finally gave the crowd a complete lap complete with a few heart-stopping moments. Not only was this guy cornering on two wheels for most of the course, but at one point he actually hit a cone with his left wheels and sent the entire kart airborne. But like a true racer, he never let off the throttle and powered through the landing to the next corner.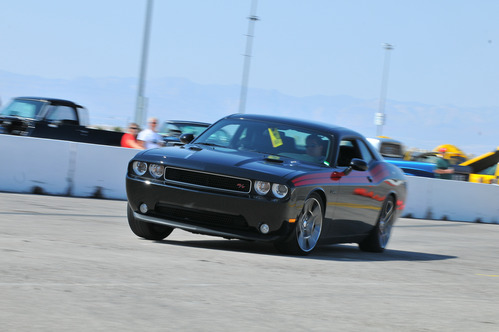 Adding a little competition to the autocross was the inclusion of a timed "shootout." Drivers were given three laps to set their quickest times in a number of different classes including Modern Muscle, Front Wheel Drive, SUV/Truck, and Classic Muscle. This is also when competitors in the Super Car Shootout (quickest combined time on the drag strip and autocross) would set their official times.
The Hotchkis Autocross was just one of a number of different events taking place that weekend. The event also included a judged car show, drag racing, a swap meet, multiple cruise-ins, and two nights of live entertainment (including a concert from the Blue Oyster Cult). The drag racing portion of the event included 16 different classes with cash prizes that ranged from $250 all the way to $5000.
Hotchkis would like to thank everyone that came out to participate in the autocross, join us for a ride-along, or cheer on the drivers. It is great to see Autocross continuing to gain popularity among the muscle car crowd and Hotchkis is proud to act as an ambassador to the sport, the community, and our customers. We would also like to thank the Las Vegas SCCA for helping to put on such a great event.
The winners of the Shootout are below:
Classic Muscle
Steven Pierik – 1971 Camaro*
Robert Pierik – 1971 Camaro
Dick Eytchison – 1965 Chevelle 4-door
Shannon Hudson – 1969 Valiant
Dan Robinson – Barracuda
Modern Muscle
Robert Byrd – 2010 Camaro
Adrian Powel – 2005 GTO
Clayton Yates – 2000 Mustang
Steadman – 2010 Challenge
Anthony Hollars – 2012 Chrysler 300 SRT-8
Front Wheel Drive
Dan Weishaar – 2013 Fiat 500
Alex Gaebel – 2000 Ford Focus Kona Edition
SUV/Truck
Michael Newman – Durango
Super Car Shootout
Tom Gipe – 2008 Dodge Viper
Ronald Silva – 2012 Dodge Challenger
Carl Conrad – 2012 Dodge Challenger
Evan Graham – 1966 Barracuda
*Quickest Time of the Day