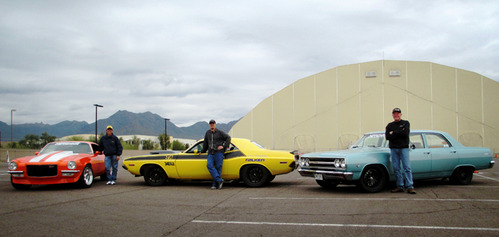 March has been a busy month for the Hotchkis H-Team with nearly every weekend playing host to another autocross or racing event. On top of the big events of Run to the Coast and Mopars at the Strip, there were also two Goodguys autocross events that took place – the first in Scottsdale, Arizona and the second in Pleasanton, California. At both of these events Hotchkis drivers were pushing their cars to the limits and wowing the crowds with what is capable with just a well-engineered bolt-on suspension setup.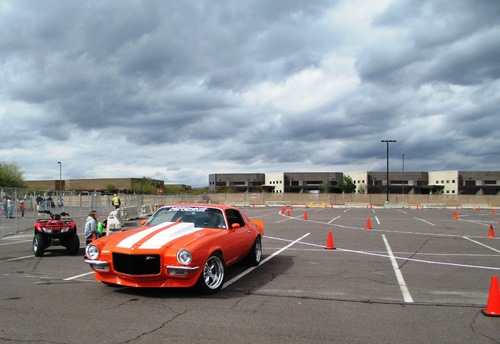 Though the Goodguys Spring Nationals in Scottsdale, Arizona started off a little damp, when the skies cleared and the ground dried up there was still plenty of autocrossing to be had. Representing Hotchkis at this event was Dan Weishaar in "E-Max," the Hotchkis '70 Challenger T/A, Dick Eytchison in his '65 Chevelle Sedan, and Robert Pierek with his '71 Camaro "F-71." This colorful trio put down some great times with Dan Weishaar and Robert Pierek coming in third and fourth place against some very tough competition. Dick Eytchison came in a very respectable 13th place beating out many smaller, lighter, more powerful cars and clocking in a time only two seconds slower than Weishaar.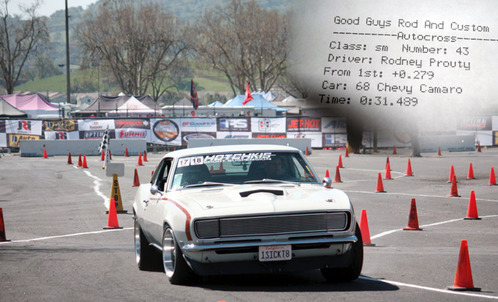 Just two short weeks after the Arizona event, it was time for the Goodguys All American Get Together in Pleasanton, CA. For this event, the Hotchkis H-Team was represented by a pair of Camaros driven by Rodney Prouty and Deanna Marengo against a field of 49 other drivers in their class. Rodney was out to prove that he and his Hotchkis-equipped "Plain Jane" '68 Camaro were not to be underestimated. Aided by the extra grip from his new Falken Azenis RT-615K tires, Rodney battled all weekend for the top spot in the Street Machine class. After some intense back and forth racing, Rodney finished with a strong second place finish only two-tenths of a second off the leader. Deanna Marengo also had a solid finish in the Street Machine class, taking her '71 Camaro to a 12th place finish that was just a mere two seconds off the top time.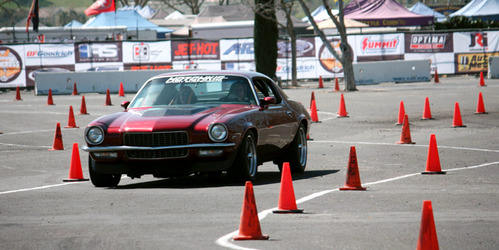 On April 5-7, 2013, Hotchkis Sport Suspension and the H-Team will be heading out to the Goodguys Del Mar Nationals for yet another Autocross. If you are in the Del Mar, CA area come on out and see us at the Autocross. If you can't make it, stay tuned to our Instagram feed@Hotchkis for live coverage from the show.