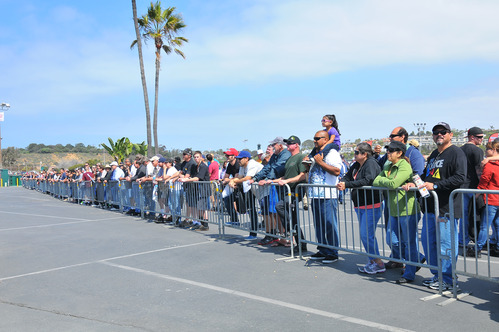 It was a stereotypically perfect Southern California weekend April 5 through April 7, 2013, with sunny skies, moderate temperatures, and a cool ocean breeze creating a paradise for autocrossing at the Goodguys Del Mar Nationals. The Hotchkis H-Team was on hand with seven different vehicles representing in every division except for Hot Rod. This event was packed full of some of the closest and most intense racing of any Goodguys Autocross to date, where the difference between first and second often came down to hundredths of a second.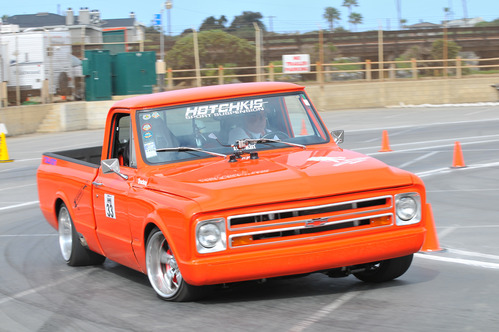 Mike Hickman won the Truck category his supercharged LS3-powered '68 Chevy C10 pickup. He just recently added the new prototype Hotchkis-Tuned 1.5 SPS aluminum monotube shocks by fox to his truck and couldn't be happier. Throughout the weekend Mike was in a constant battle for first place and was making constant improvements on his line and throttle control to eventually emerge victorious in a battle that was decided by a scant three-tenths of a second running a 56.284. Rob Phillips also did very well with his '69 C-10 truck clocking in at a respectable time of 58.207 seconds, securing his spot in fourth place.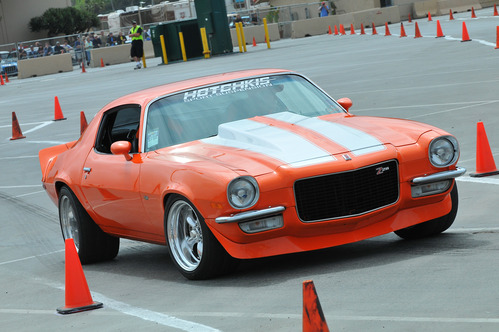 In the Street Machine Class there were three Hotchkis drivers that clocked nearly identical times ending in a five/six/seven finish. Rodney Prouty took home a seventh place finish in his '68 "Plain Jane" Camaro with a just a 55.414-second run, a mere 3-hundreths of a second behind Dan Weishaar's 55.37-second run in the Hotchkis E-Max Challenger. Clenching a Top-5 finish was Robert Pierik in the F-71 Camaro, who bested Dan's time by 3-hundreths of a second on his last run of the competition tripping the lights at 55.345-seconds.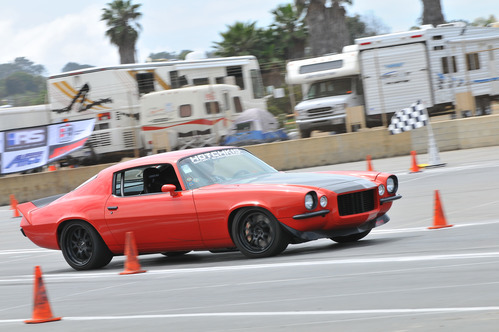 The Pro Class was also the scene of an epic battle between "Fast" Mary Pozzi in her Hotchkis-equipped '72 Camaro and Mike Maier in his '66 Mustang. In a battle reminiscent of the song, "Anything you can do I can do better," the battle for the top spot in the Pro class was a case study in one-upmanship. Every time Maier would set a new fast lap, Mary would be right behind him just inching him out. As the two drivers searched for every last bit of speed the course had, Mary managed to squeak by Maier on her final run by 0.2-seconds clenching the win with a 53.301 vs Maier's 53.508.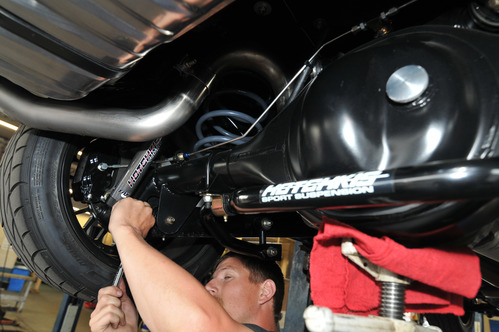 The other amazing story of the weekend was the improvement that Dick Eytchison and his '65 Chevelle sedan saw thanks to the brand new Hotchkis Tuned 1.5 Street Performance Series Shocks that were installed on Friday evening. At the end of Friday's racing Eytchison's best time had was 60.3-seconds. After installing the new shocks, his first run was a half-second quicker and his second run was one and a half seconds quicker than his first run – an overall improvement of two seconds from just installing new shocks!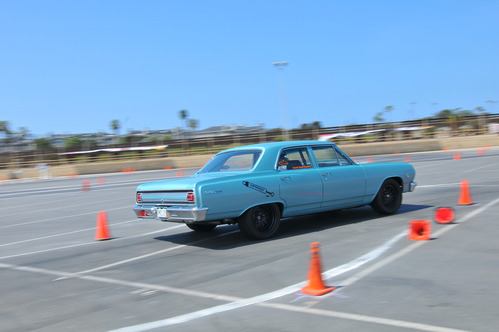 This event was a huge success for the H-Team and for Hotchkis. Everyone who was there had a great time, one person had a little too much fun with Pro-Touring.com's "Crazy Short Saturday," and Hotchkis' new shocks proved their mettle on the autocross course. A big thanks goes out to the H-Team for coming out and helping to support Hotchkis and promote the sport of autocrossing as well as to Falken Tire for their tireless support of pro-touring and developing the awesome Azenis RT-615K 200-treadwear tire that allows the H-Team to drive their cars to the track, autocross for 3 days, and then driven home again with plenty of rubber left to spare and Flowmaster exhaust for making our E-Max Challenger's little 340-Six Pack sound so good.