FOR IMMEDIATE RELEASE
HOTCHKIS ROLLS OUT NEW PERFORMANCE WHEEL LINE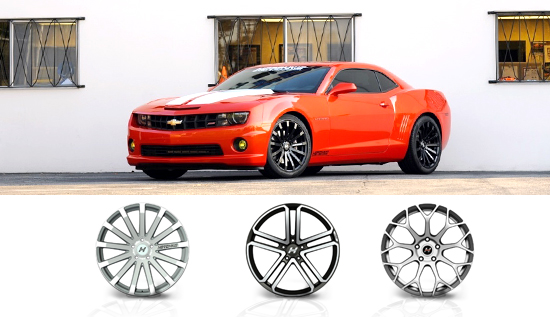 Racing-inspired cast-aluminum wheels for late model GM, Chrysler, and Ford muscle cars deliver style and performance for less money.
Features & Benefits:
Reduction in unsprung weight compared to factory wheels enhances the vehicle's steering, braking, and acceleration.
Lower offset give the car a wider track for better handling and stance.
Hub centric design does not require hub rings for proper fitment.
Will clear OEM and (many) aftermarket big brake kits.
Santa Fe Springs, CA – (September 2012) One of the most underappreciated components of a well-balanced performance suspension is a good set of wheels. To properly enhance the performance of a vehicle, wheels should be light, strong, and provide a wider track. But thanks to near-endless variations of diameters, widths, bolt-patterns, and offsets, even the biggest gearhead can become frustrated when trying to choose the right wheel. Thankfully, Hotchkis Performance has helped make this choice easier with its new line of wheels for late-model GM, Chrysler, and Ford muscle cars.
These new Hotchkis Performance Wheels are available in three different styles: H-Sport, S-Sport, and Y-Sport. The H-Sport wheel is a multi-spoke design that is available in Gloss Silver or Matte Black. The S-Sport wheel features a double 5-spoke design, is available in a Gloss Silver or Matte Black finish, and has machine polished accents. Featuring a classic Y-spoke design, the Y-Sport wheel is available in a solid Matte Graphite finish or with a Machine Polished Face and Matte Graphite Accents.
Hotchkis Performance Wheels are, on average, 2-4 pounds lighter than factory. Though it doesn't seem like much, this reduction in unsprung weight goes a long way improving the performance of a car – enhancing not only handling, but also braking and acceleration. Hotchkis Performance Wheels also run a smaller offset than stock. This moves the location of the wheel further out and gives the car a wider track for more stability as well as a more appealing stance.
Whether you drive a Camaro, Mustang, or Chrysler LX/LC/LD vehicle, there is a fitment designed specifically to meet your needs. Each particular application was evaluated to determine the specific offset, hub diameter, and bolt-pattern required for the best performance and looks. Designed as a direct replacement, they are capable of supporting factory 20-inch tire sizes as well as plus-sized fitments and are also designed to clear factory and aftermarket big brake kits.
All Hotchkis Performance Wheels are available in twenty-inch diameters. The H-Sport and S-Sport wheels are 8.5-inches wide for the front and 9.5-inches wide for the rear. The Y-Sport Wheels are nine-inches wide in the front and ten-inches wide in the rear. Prices for all three styles are $360 per wheel for front fitments and $400 per wheel for rear fitments. The new Hotchkis Performance Wheels also won the Best New Wheel Product award at the 2012 SEMA Show.
About Hotchkis Performance
Founded by former professional racecar drivers and national champions, Hotchkis Performance was one of the first to design and track test performance suspension for muscle cars. Nearly two decades later, Hotchkis remains dedicated to high-quality, track-tested, suspension that is Made in the USA with domestic materials. Dare to Compare: Hotchkis offers complete bolt-on systems that are designed in-house and rigorously track tested for maximum performance, strength and value. Each system is tuned for high performance handling, a sporty yet comfortable ride and improved traction on the street and track. Don't settle for pieced-together systems or foreign sourced parts. The Hotchkis Philosophy is simple: Buy it once, bolt it on, and have fun! To preview the entire line of Hotchkis Sport Suspension parts and components, please visit www.Hotchkis.net, email sales@hotchkis.net, or contact Hotchkis Performance, 8633 Sorensen Ave, Santa Fe Springs, CA 90670, 877-4-NOROLL.