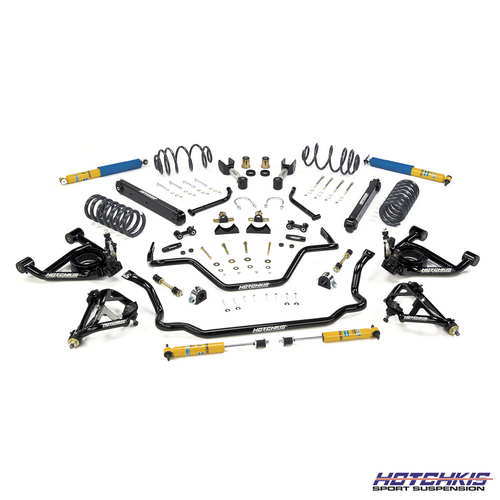 Features & Benefits:
First time that Upper and Lower A-Arms, Springs, Shocks, Sway Bars, and Upper and Lower Trailing Arms have been available in one complete, bolt-on kit.
New sway bars increase roll stiffness by 340% in the front and 75% or 100% in the rear while new coil springs lower ride height by 1-inch.
New Upper and Lower Front A-Arms increase caster by 4-degrees (adjustable up to 10-degrees) and set your camber from -1-degree to -3-degrees.
Santa Fe Springs, Calif. (September 2012) – As muscle cars from the '60s and '70s become more expensive, enthusiasts are looking to cars from the '80s for an affordable alternative. Combining a low cost of entry, stylish looks, rear-wheel-drive, and a V8 under the hood, GM G-Bodies have become increasingly popular as project and track cars. Now with the release of Hotchkis Sport Suspension's Stage 2 TVS suspension kit, the most complete suspension kit on the market, enthusiasts have everything needed to make the G-Body handle like a true race car.
Rigorously tested on the track and the street, every aspect of the G-Body suspension has been reengineered to deliver maximum performance and comfort. Out front new Tubular Upper and Lower Control Arms increase caster and improve the camber curve resulting in increased front end grip and traction. Heavy duty tie rod sleeves hold the alignment while new Sport Coil Springs and the Hotchkis-tuned Bilstein shocks improve vehicle control and provide a 1-inch lower ride height for a more aggressive stance. A massive 1 3/8-inch front sway bar and 1 1/4-inch adjustable rear sway bar keep the body roll in check and further improve handling.
Front spring rates have been increased to 600 lb/in in the front and 135 lb/in in the rear. This increased rate prevents suspension bottoming while giving the car a sportier ride that is still comfortable for driving around town. The new sway bars increase roll stiffness by 340% in the front and by either 75% or 100% in the rear. The new front Lower Control Arms increase caster by +4-degrees and include aluminum shims to let you fine tune the ride height. The front Upper Control Arms let you adjust the camber between -1-degree and -3-degrees and add up to an additional +6-degrees of camber.
To improve traction and reduce wheel hop, the stock 4 link rear suspension receives some much needed upgrades. Massive 1 1/2-inch adjustable Billet Upper Trailing Arms allow for pinion angle changes to improve launches, while super strong 1 1/2-inch x 3-inch rectangular tube lower trailing arms maximize traction by eliminating the flex present in the stock arms. All of these parts work together and add up to a car that dominates on the racetrack or autocross course but is still comfortable enough to use for your daily commute.
Like all Hotchkis Performance suspension products, the GM G-Body Total Vehicle System components are manufactured in the USA, come with all necessary hardware, and are finished in durable powder coat. With this bolt on upgrade you can transform you're G-Body in a single afternoon – unlocking the true handling potential of your car.