VIPER HANDLING FOR CLASSIC MOPARS
New Geometry-Corrected Tubular Upper A-Arms for B & E Bodies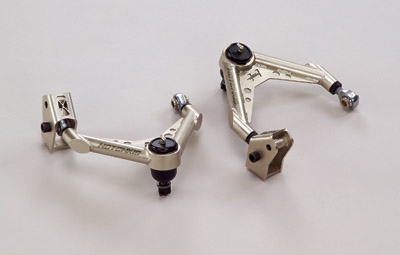 Hotchkis B & E Body Upper A-Arms. Click to download in High-Res. Test car vehicle images below. 
For Immediate Release
KEY NEWS
Tubular arms correct excessive caster gain and create a proper negative camber curve 
Dramatically improve cornering performance, traction and steering response 
Other benefits include reduced bump steer and maximum control over suspension setup 
Arms are TIG welded 1-1/8″ high-strength tubing with laser cut reinforcement gussets 
High quality 5/8″ high articulation rod ends and ball joints and the laser cut CNC-bent bolt-in relocation bracketcome pre-installed. 
Applications include 1966-70 Chrysler B-Body and 1970-74 Chrysler E-Body
Santa Fe Springs, Calif. (March 2009) –Chrysler B & E Bodies like the Charger, Barracuda, Challenger, GTX and Superbird are icons of the muscle car era. Owners of these classic muscle machines have had to choose between poor 1960s handling and a new K-member using "Brand-F" technology – until now. The engineers and handling experts at Hotchkis Sport Suspension have developed a new bolt-on Tubular Upper A-Arm kit for Mopar B & E Bodies that corrects excessive caster gain, creates the proper negative camber curve and reduces bump steer. The result is dramatically improved handling, traction and road feel, all while preserving the classic Mopar soul.
These new A-Arms were designed to utilize your stock K-Member and use Mopar-style hardware enhanced with modern geometry and race-proven materials. The arms are constructed out of 1-1/8" high-strength steel tubing fully gusseted with laser cut reinforcement brackets and are TIG welded for maximum strength and durability. The kit includes pre-installed laser cut pick up point relocation brackets, fully-articulating rod ends and high quality ball joints. A lustrous nickel plated finish provides incredible shine and long-lasting protection. 
During track testing the arms showed incredible gains on their own, but when paired with our new Sport Sway Bars and adjustable Strut Rod and Steering Rod kits, they totally transformed our Challenger and Charger test vehicles into modern canyon carvers. Hotchkis Tubular Upper A-Arms are available for the 1966-70 B-Body (Charger, GTX, Coronet, Road Runner, Satellite, etc.) and 1970-74 E-Body (Challenger & Barracuda). Like all Hotchkis Performance products, Geometry Corrected Mopar Tubular A-Arms are designed, built and punished in the USA.
To preview the entire line of Hotchkis Sport Suspension parts and components, please visitwww.Hotchkis.net, email sales@hotchkis.net, or contact them at Hotchkis Performance, 12035 Burke Street Suite 13, Santa Fe Springs, CA 90670, 877-4-NOROLL, 877-466-7655.
Click here to Download Release as Word Doc
LINKS & VIDEO
Click Here For More News at Hotchkis.net
Hotchkis Mopar B-Body Suspension Landing Page
VIDEO: Hotchkis E-MAX Challenger Handling